Roopkund Trek: A Mysterious Skeleton Lake Trek
Roopkund trek is in Uttarakhand. We all know that Roopkund trek is famous for its Skeleton Lake. The Lake is mysterious because more than five hundred skeletons of human are found at the edge of Skeleton Lake or Roopkund Lake.
It's one of the best sites to trekking in Garhwal. Roopkund does not attract people in India but Trekker from abroad visit Roopkund each year.
The mystery of Roopkund remains a question for everyone. Some people believe that these skeletons are of heroes who had fought in the earlier times.
Along with the human, horses and other animal Skeletons are also present there.
In 1942 the skeletons were discovered the first time. It believes by the researcher that the death is caused by Landslide or Epidemic.
Later in 2004, a team of Indian and European scientist visited the area to get more information. The researchers say that the skeleton belongs to 12th to 15th century. They examine and realize the addition of that 500 skeleton another equal number skeleton are perished due to natural conditions.
Difficulty level : Roopkund Trek
The trek is moderately difficult and can be done by anyone having the appropriate endurance level. Beginners can also opt for the trek provided they have to prepare themselves physically and mentally simultaneously.
Highest Altitude : Roopkund Trek
One can attain a maximum altitude up to 16,499 feet subject to his endurance and other conditions such as climate, temperature and his experience level.
Duration : Roopkund Trek
The trek lasts for 7 days including the pickup and return. Picked up from the Dehradun the trekkers are taken back to the patarnachauni where they are driven back to the Dehradun. Everyday a trekker has to do trekking on an average of 5 hours subject to the weather conditions.
Seasons : Roopkund Trek
Each season has its own particular excellence, and focal points. In India, summer treks are prominent for much valid reasons. A late spring excursion, rest from searing days alongside frigid snowcapped lake are strong to be a convincing recommendation. No big surprise that Roopkund trek is accepted the most prevalent summer trek in India. If you are not enthused about these but rather get a kick out of the chance to climb on a similar trail over lavish greener glades (Bugyal are for sure best in Aug/Sep), blooms in post monsoon is the correct decision for you. So, the trip of the snowclad Roopkund in summer is an unexpected one in comparison to the first skeletal lake as found in post rainstorm. Quite is no disadvantage in any season (accepting you have a strong trekking community) and you may pick according to your own taste.
Average Temperature : Roopkund Trek
Temperature at Roopkund varies with time. In day it can range anywhere in between 13 to 18 degrees Celsius where at nights in could be as chilled as 0 to -8 degrees Celsius which is sufficient to give you an icy essence.
---
What makes this trek different?
The main attraction of this trek is the mystery behind the skeletons in the lake due to which it is also known as the 'Skeleton Lake'. There has been many stories and theories behind this presence of the skeletons in the lake, but it was revealed that they are the remains of the people who faced a severe hail storm and died.
While you go for Roopkund trekking, you will feel a natural charm and mystery in the environment. The Kund is situated around 16,499 ft. above the sea level. There are many unknown facts about this trek, which will push you to go for this trek and some of them are mentioned below:
If you are going for a trek for the first time, then this is the right choice for you. This trek is safe, adventurous, mysterious, and beautiful or we can say that it is a complete package.
Obviously, everyone knows about the oak forests which are found above Wan, but do you know that these forests stretch for more than 3,000 feet.
You can see Mount Trishul, which is the first 7,000 metre summit climbed by man, closest in front of you. Such a sight is unique in Himalayan Trails.
You will experience many such things which will compel you to return to Roopkund for another breathtaking experience of the trek.
---
Trek Itinerary : Roopkund Trek
Why Roopkund Trek
Roopkund trek is one of the most magnificent place in the Uttarakhand. Considered as the heaven for trekkers, Roopkund gives an amazing experience to the trekkers with its lush green forests and snow-clad mountains. Popular for its mystery lake, the trek gives you a memorable experience for lifetime during your excursion.
The high altitude meadows of Bedni Bugyal welcomes you with their rich in floral dynasty that not just soothes your eyes but also gives an immense pleasure to your soul. Located at an altitude of 4800 meters in the lap of the majestic Himalayan ranges, this is one of the most sought after place for trekking in the Garhwal region.
Trekking is sort of soft-adventure sport which can be done by anyone with reasonable physical conditions. Trekking is exploring the Himalayas, which is enriched with the beauty of nature and a lot of adventures. Walking through the random forests and landscapes and finding the mysteries of places gives you a lifetime unforgettable experience.
India is considered to be the most famous places if it comes to trekking for trekkers due to Himalayas, high mountains, valleys, forests, rivers and many such beautiful views. Trekking in India is very famous and people around the world visit India for trekking in places such as the Himalayas and Uttarakhand. You get an incredible and adventurous experience of trekking in India which you never forget in your life!
The Mystery Lake
The skeletons around the mysterious Roopkund lake is the major focal of attraction of the trek. The skeletons found on this trek is believed to be heroes of the ancient times who fought here a battle. In addition to the human skeleton, there are skeletons of animals like horses etc. which, reportedly are of 12th or 15th century A.D. , Albeit, the specialists tell all the way a different story about these skeletons. They assumed it as massive loss of livestock due to natural calamity like landslide, blizzard or any similar event which led to the loss of lives in this reason.
Though the exact number of skeleton is not known yet they are presumed to be 500 and an equal number of skeletons are believed to have perished due to natural environment.
Further, the radiocarbon dating of these skeletons at the Radiocarbon Unit of the prestigious Oxford University and other parts of the world has determined these skeletons to be as old as 850 A.D. A number of scientists believe that the people must have died due to hailstorm and their skeletons could not perish due to the icy and cold weather of the area. The favorable conditions preserved the skeletons and prevent them to decay off and decompose into the soil.
The Lush Greenery of Ghairoli Patal
At the beginning of the trek, you're welcomed by the lush green forests of oaks at Ghairoli Patal. Your trek begin with the melody of birds accompanying the rustling of the dry leaves which lasts for 3-4 hours as this is the time all it takes to climb to the campsite. Camping amidst of the old oak trees where setting sun behind the Mt. Trishul spreads its rays through the canopy creates a perfect blend of the nature.
Spell Binding Meadows
Ali Bugyal and Bedni Bugyal are two of the most lush and magnificent meadows that hold the might to steal your heart with their beauty. While approaching the trek, you feel like revitalizing the windows XP wallpaper as the mountains surrounding the meadows add the beauty in it. A magnificent glimpse of Mt. Trishul, Nanda Ghunti can be stolen with some other majesty peaks such as Neelkanth, Kedarnath, Chaukhamba ranges etc.
Thrilling Adventure
A great dose of adventure is something one can't deny. A balanced dose of thrill and adventure is what you get at the Roopkund trek. While trekking through the Junargali, you feel the highest adrenaline rush when you steep along the sharp, exposed ridge. Depending upon the number of factors such as weather conditions and the time of the day, the trek gives you a perfect blend of adventure and sight-seeing altogether.
It takes around a week excursion to explore the entire Roopkund trek and each day will give you the experience that is worth more than just an ordinary day. Roopkund temperature gives you a feel of no less than a hill station.
Summing up shortly, Roopkund is one of the most picture perfect place blessed with the ample of natural beauty, ranging from snow clad pristine mountains of Mt. Trishul to spell binding meadows of Ali and Bedni Bugyal. Mystery Lake of Roop is just an added charisma to the place that not only leave the trekkers puzzled about the skeletons but also give them a sense of thrill altogether.
The religious importance of the place can be judged with the event that happens every year in autumn at the alpine meadows of Bedni Bugyal and one can also witness the majestic Nanda Rajjat Yatra amidst of the beautiful Himalayan abode.
Roopkund Trek: Essentials
Trekking, no doubt, is one of the most thrilling adventure one could ever have in his/her life. With an elegance of nature and unmatchable experience of the pristine mountain ranges, trekking stands out among all the adventures across the world, but nothing comes free, there are certain aspects of the trekking which one needs to consider while he/she is making up his/her mind for trekking. Here's a list of some basic requirements which one would need during his/her camp trekking. Let's pay some heed to these prerequisites for trekking.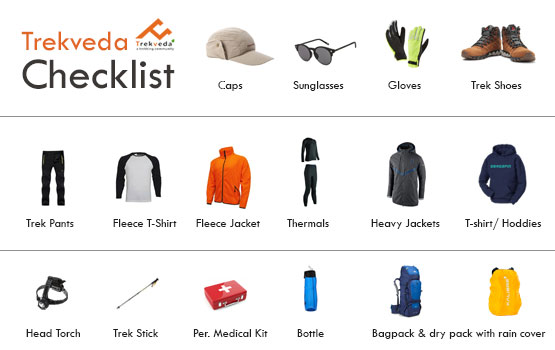 Trek Essentials to Carry with Yourself.
Things You Can't Afford Missing On Trek
1. A Sturdy Backpack/Rug Sack
A high-quality backpack with an ease of carrying facility with durable and stern straps is one of the pivotal thing that you'd need during the entire trekking. The easier it's to carry, the more fun you can have during your trek.
2. A Pair of Trekking Shoes
Your regular sports shoes can be a mess during the trek and one of the most regretting thing that might take away the joy of trekking. To prevent yourself from slippery patches through the streams, a pair of trekking shoes with good grip would do a great work for you and reciprocate your experience of trekking to the manifolds.
---
Clothing
Clothing is one of the most important aspect of trekking but that doesn't imply the "what if situation", hence carry the clothes that you'd need normally. Carrying more and more clothes will only add the weight, thus problem. Once on the trek, you'd not generally need to change the clothes every now and then, provided if you maintain your hygiene properly.
Three warm layers: On high altitude treks, temperature after the sunset drops to the considerable degrees. So during these campsites, you might need an additional layer along with the padded jacket coupled up with a fleece and a warmer.
Three trek pants: Please don't go for jeans/ denims for the substitute for the trek pants since they'd not add comfort to your stay at the campsites. Wear one pair and carry the remaining two.
Three collared Shirts: It's advised to wear full sleeved shirts instead of the t-shirts in order to prevent ourselves from the sun-burn. Carrying a dry-fit t-shirt or two can be a wise idea if you're trekking during the rainy season. Regardless of the cold weather, trekkers' bodies tend to sweat and to prevent yourself from falling ill, you're advised to change your clothes at campsites.
Warmers: Warmers or thermals can be added on one's own concern related to their health and their exposure to the cold climate.
---
Accessories
Shades: Sunglasses are to counteract snow visual deficiency. While at the same time you're probably not going to discover snow in October, convey a couple in any case.
Sun cap: The sun feels more grounded while at the same time strolling on the mountain slants. Convey a sun cap to shield your head and neck from the warmth, particularly in case you're trekking later in the day.
Engineered hand gloves: One sets of downy or woolen hand gloves. One sets of water evidence/safe, wind verification gloves.
Balaclava: You may utilize woolen scarves rather too.
Socks (2 sets): Apart from two sports socks, you can take a couple of woolen socks for the night as they'd spare you from the dripping temperature.
Headlamp/LED burn: Mandatory
Trekking pole: Having a trekking pole in your hand during the trek is boon, although at times it may bother you as an unnecessary article but it proves out most handy during the submit as it curbs your effort of straight inclinations of the high altitudes which often turns out tiring.
---
Other Essentials to Carry
An Additional Pack: This is one of the best practice you can do on one-day submits or treks where you need to get back to your campsite by the end of the day. Here you can pack your essentials like, water bottle, medical aids and snacks. This keeps you away from carrying the unnecessary weight.
Toiletries: Be wise while choosing your cosmetic needs and daily use products. Refrain from using the non-biodegradable products, if you do so then make sure that you leave residue on the mountains. Always carry a zip bag to put such piece of stuff after use. Sanitary napkins also needs to be treated in the same manner.
Indispensable Water Bottles: To keep your body hydrated during the trek, you are advised to carry your own water bottles during the treks since leaving plastic and its product is not advised on the mountains since they are not suitable for the environment of the altitudes.
Plastic Bags: To keep everything organized, you should compartmentalize the stuffs into plastic zip bags and also carry a few in spare for wet clothes and other by-products.
---
Mandatory Documentation
There are certain rules and laws that you need to abide by, while going for the treks, however Trekveda takes care of all such kind paper works which is inclusive in the package. Certain registration fees and document verification along with some permissions are required in order to protect the nature and its evergreen heritage for future. In addition to this, if you need to avail a guide, you can also hire a guide with some bucks and a nominal paper work.
Please carry the documents mentioned below. Documents two and three need to be downloaded (PDF), filled in, signed and handed over to the trek leader at the base camp.
1 passport size photos and an original + copy of government photo ID document – required for Sanctuary registration and TIMS (Trekker's Information Management System)
Medical Certificate (first part to be filled by a doctor and second part by the trekker)
Disclaimer form (to be filled by the trekker)
Measures Taken by Trekveda to Ensure the Security of Trekkers
Trekking is altogether a different kind of adventure where you required to be physically and mentally prepared for the best and adverse, all at once. With high altitudes making it tough to breath, the scenic beauty of those pristine mountains leave you spell-bounded so that you forget to breath for a moment or two. In addition to the physical and mental preparation, there are certain aspect of the health that are needed to be considered at the first hand when you make up your mind for the trekking,
Trekveda, by dint of its team of trained professionals, leave no stone unturned to provide you with the best trekking experience while ensuring your safety as its priority. Here are some vital aspects that Trekveda includes in its checklist to ensure the safety of its trekkers.
Criteria for Fitness Analysis
Trekking at high altitudes demands endurance and fitness and those who are prone to any kind of physical or physiological ailments are advised to not to go for high altitude treks in the beginning. To get assurance about the trekker's fitness, we comply with certain aspects of the being fit such as BMI (Body Mass Index) along with the fitness proof since we can't put the trekkers into the risk.
Acclimatization is another important aspect when it comes to getting an adaptation to the climate at the high range treks. A day at rest is not just the rest but a chance to get used to of the place and its habitat.
Monitoring the health is one thing that is conducted regularly during the trek by the trek leaders which includes the monitoring of your blood pressure, oxygen level and pulse rate. Details of your health during the trek is maintained in the health card on the regular basis. Health card can be collected from the trek leader at the end of the trek.
Medical Kit for High Range Trekking
An ideal medical kit that's developed for the trekking has Blood Pressure Monitor/checker, Stature, Oxygen checker and Oxygen Cylinder coupled up with certain must have medicines, in case of medical emergency:
Diamox
Dexamethasone
Dexamethasone
Nifidipine
Asthalin Inhaler
Syringes
Trekking Equipment for High Altitudes
Trekveda provide you all the necessary equipment for trekking from tents to ropes. In addition to that, our trek leaders also ensure the safety by various safeguards they take time to time for your safety. Micro spikes are provided to attach to your shoes which help you to keep the traction on the snow and make it easier to climb. An additional gaiters are provided to cover the shows which prevent the entering of snow into the shoes. Customized tents are provided to the trekkers which ensure the warmth and temperature 10 degrees higher than the outside coupled up with high quality sleeping bags which can endure the temperature up to 15 degree Celsius below the freezing point.
Nutrition and Hydration
Trekveda, keep all your nutritional and hydration requirements on its checklist, our trek leaders will guide you to keep your body hydrated on the high altitudes as de-hydration can attract to the severe medical emergencies on high altitude treks.
We provide the highly nutritious meal to energize your body for the trek, however before certain long trails we ensure your nutritional requirements to be fulfilled with some high energy snacks or packaged lunch.
Make sure you keep up with your hydration and nutritional part as this can lead to some fatal consequences for your health.
In case of any symptoms you feel during the trek, don't ignore or avoid them, immediately tell the trek leader.
Keeping up with the pre-defined processes and the guidelines will help you to have a memorable trekking experience.
---
What Trekveda has to Offer in Case of Medical Emergency like AMS, HAPE or HACE?
In case of medical emergencies, Trekveda and its trek leaders bear the sole responsibility to get you back to your wellbeing with their training and techniques. Suspecting any physiological disturbance in your body, immediately report to your trek leader as they are trained to counter such problems.
Problems like Acute Mountain Sickness can be prove fatal if not taken into consideration seriously on time. If you encounter/experience any of the symptoms such as persistent headache, fatigue or weakness, nausea, dizziness, loss of appetite, difficulty in sleeping, you shouldn't let it go or treat it by your own either.
Acute mountain sickness is one of the most common yet the fatal problem trekkers face due to number of reasons, if the problem continues to persist, then you're advised to descend down to the basecamp and then to visit the doctor immediately.
People with AMS are treated with number of medicines such Diamox, Nifidipine etc. coupled up with methods like Triple One Test- where one disprin is given with a liter of water along with the rest for an hour.
While AMS is most common at the high altitudes yet it can't be risked taken casually as it leads to severe fatal conditions like HAPE (High Altitude Pulmonary Edema) or HACE (High Altitude Cerebral Edema) which, if not treated on time can lead to number of serious chronic disorders. These conditions need to not to comply with AMS, they can occur without AMS preceding.
It's suggested to take every single disturbance into the consideration while you're on the trek.
However, Trekveda is capable of tackling all the medical emergencies with its trained professionals yet there are several things that you need to consider, specially the intake of medicines and the knowledge about their advantages and side-effects. Don't administer the medicine if you're trekking through an organization, always seek help from the trek leaders, they are trained for such purposes, while in case of being a solo trekker, you should know about the medicines.
Keeping yourself hydrated and nutritionally fulfilled curbs the chances of AMS.
---
How sheltered is the Roopkund trek?
The elevation pick up is a hazard segment in the Roopkund trek. As you go higher the accessibility of oxygen gets lower. With bring down levels of oxygen, dealing with the ascensions isn't simple. You truly need to climb gradually enabling your body to adjust to the lower oxygen levels.
There are three areas that will push you hard. The first is on the very beginning of the trek. You set out from Wan town with a move to the highest point of the edge that hangs over the town. That is a hours climb effortlessly. At that point there's a beautiful plummet to the Neel Ganga waterway. From the stream it is an inside and out move of 3½ hours to Ghairoli Patal campground. Particularly for a first day's trek it leaves your heart pumping. The uplifting news is, it is a brilliant readiness for whatever is left of the days. Additionally the Ghairoli Patal campground makes it worth the climb.
On the fourth day, there is a firm move from Patar Nachauni to Kaluvinayak. It is a switch back climb (crisscross) picking up height rapidly. It is over in two hours. In any case, at that height your legs and lungs will shout.
On the fifth day, when you climb Roopkund from Bhagwabasa, it is another enormous climb. It takes around 3 hours to get to Roopkund, for the most part on snow. The energy of the day, however, makes everybody overlook the climb. There are direct trips in the middle of, particularly on day two and three, however not something that will extend you.
On the off chance that you have enlisted for this trek, at that point here is some data that you should know with a specific end goal to have a sheltered trek. At Trekveda, we trust that as long as you are very much educated and all around set you up, can survive effortlessly at high elevations.
---
What Trekveda does to guarantee your safety?
Our logic is basic. We imbue security angles in the general population we work with, in the procedures that we take after, and in the gear, we convey. All our trek pioneers are prepared more than once on wellbeing issues and conventions. Most issues are settled with their mediation.
Appropriate from the time you choose to enroll for the trek till the most recent day of the trek, these security techniques will keep running out of sight. We have recorded a couple of them underneath:
1. Wellness criteria before enrollment
Over long periods of sorting out high elevation treks, we have discovered that security issues flourish among the individuals who are unfit and caught off guard for the trek. So we have presented a qualification criteria for the Roopkund trek. Any individual who needs to enroll for the Roopkund trek needs to meet the wellness necessities, with the perfect BMI. The BMI and wellness administration will require confirmation. A high height trek isn't to be taken coolly.
2. Acclimatization day at Bedni Bugyal
Frequently disregarded, rest is an extremely basic to abstain from getting hit by elevation ailment. Bedni Bugyal at 11,700 ft is the ideal place to give your body a chance to change in accordance with the thin air. As you investigate the immense knolls of Ali and Bedni your body prepares for the higher elevations of Bagwabasa and Roopkund.
3. Observing wellbeing on a trek
Any strange perusing will be given careful consideration to and move will be made promptly.
On the Roopkund trek, your Trek Leader will keep a daily check on you're:
Oxygen Level
Pulse Rate
Blood Pressure

This will enable us to guarantee that your body is acclimatizing as required.

Each trekker will be given a Health Card toward the start of the trek. The Health Card is issued to screen the trekker's day by day wellbeing, wherein they will enter insights about their wellbeing regular. It likewise contains points of interest of what side effects one should pay special mind to and what move ought to be made amid crises. These Health Cards will be gathered back toward the finish of the trek.

4. High Altitude Medical Kit

Your trek pioneer will convey an undeniable high height restorative unit. This will incorporate essential drugs and particular solutions taking into account height disorder – Diamox, Dexamethasone (tablets and infusions) and Nifedipine. Your Trek Leader will likewise be conveying a compact oxygen chamber all through the trek. Notwithstanding that, there are oxygen barrels introduced at all high elevation campgrounds for any crisis circumstances.

5. High Altitude Trek Equipment

To guarantee safe trekking on cold landscape, Trekveda will give you miniaturized scale spikes to append to your shoes. This will give you great footing on hard snow. To evade snow from entering your shoes, Trekveda will give you gaiters that you can put on finished your shoes. You will have qualified specialized aides with you, who will lead the route on troublesome landscape.

All our dozing packs and tents are specially crafted for high height. On the off chance that it is cool outside, it will associate with 10 degrees hotter inside the tent. The dozing sacks can withstand temperatures up to - 10 degree Celsius.

6. Being hydrated and very much supported on the trek

You have to drink at least 4 liters of water each day amid the trek to guarantee that you're very much hydrated. De-hydration on a trek can influence you to lose vitality rapidly and increase the impacts of AMS. Your trek pioneer will brief you about the measure of water that you have to convey with you toward the beginning of every day and water sources on the trail.

We furnish trekkers with nutritious dinners to guarantee that they are invigorated to finish the trail every day. Aside from this, snacks or pressed lunch is given wherever the trail before a feast break is probably going to be long. Ensure that you don't skirt any dinner as this can prompt genuine wellbeing crises on high elevations.

---

Risk and Response

Without calculating the challenges and impact on the high altitude trek is an act of foolishness. Calculating the risk before the adventurous excursion can curb your possibilities of facing the unwanted hindrance. Here, Trekveda, has enlisted a checklist of risks and response to face the dangers in the most ideal manner.

Risk: Altitude

Before you head to your trek, it's of utmost necessity to inculcate the impacts you probably can have due to this high altitudes and its climate. Know about side effects of AMS (Acute Mountain Sickness) like mellow cerebral pain, queasiness and general distress.

Response: In case of any such probable conditions, always let your trek leader know first about your state of being, since they are trained to tackle such conditions at best while in case of emergencies, all the campgrounds have all the medical necessities such as stretcher, medical aid kit, oxygen chambers and a lot more, to handle any unlike situation.

Risk: Weather

Himalayan ranges tend to have an unusual weather conditions, regardless of the fact that we are always attentive to the climate changes but we can never be sure about the natural acts such as snowfall, rain or the scorching sun. In such an unpredictable weather condition, ensuring your own health and safety is the primordial matter. Citing your health and safety as of primary significance we wouldn't proceed our trail.

Response: The decisions taken by the trek leaders and guides available during the trek on the weather conditions will be final as they would take the decision after examining all the pros and cons of the climate and the safety of the fellow trekkers.

Risk: Injuries

Injuries are quite common during the difficult treks. Having the minor wounds such as leg sprains etc. However, having a cut or fractures are exceptional.

Response: Our trek leaders are generally the trained professionals to tackle some minor injuries and have certification of Wilderness First Aid Responders. We are always equipped with the complete medical aid kit to curb the medical injuries at large. Although, in case of medical emergencies, we often take the effected person to the nearest medical center on stretcher for better treatment.

Risk: Breach of Communication

In the remote areas of the Himalayas or in certain areas of higher altitude, mobile networks are unavailable. During the trek, one is almost cut from their near and dear ones as they couldn't connect through calls, SMs or any other medium.

Response: However to communicate to between our campsites and basecamps, we use sprinters and walkie-talkies to fulfil our needs since this is the only way accessible to us during the trek to communicate.
Roopkund Trek Route
The trek to the Roopkund begins at Wan where you can reach via Dehradun which is the main station. You'll shared cabs from Dehradun to Wan with fellow trekkers. You need to bear the cost of this taxi, which will be 5,500/- INR for 4-5 setter.
The Dehradun station is one of the principle stations in the area and it is an old station. It has great availability to numerous spots and these incorporate Lucknow, Delhi, and Howrah. Tickets from Delhi to Dehradun via train cost around Rs. 150 for an inferior sleeper ticket and Rs. 400 for a third A/C sleeper ticket.
Via Train
There are 19 different trains available between Delhi to Dehradun.
Nanda Devi, Jan Shatabdi, mussoorie express and Dehradun express are the best options among them.
By Bus
Normal transports employ from Kashmiri gate Delhi to Dehradun.
Via Flight
You can get a flight between new Delhi to Jolly Grant.
Distance between the Jolly Grant to Dehradun is 28 Km.
It will take half hour drive to reach Dehradun.
Other transportation
Would recommend you to take just government transports from Kashmiri gate Delhi. Private transports handle from outside ISBT and they are not confiding in value.
Shared Taxis or comparable vehicles will get you from Dehradun Railway Station at 6:00am.
Pre-Trek Preparations
Roopkund is a moderate grade trek which can be done by the beginners as well provided they have had their physical and mental work done before at least 2 months. Despite of being a moderate trek, there are certain things that are needed to be taken under the consideration before you head to the Roopkund trek.
Being moderate in the trekking doesn't imply the cake walking. People who take the preparation before the trek are the ones who have to leave the trek much before completing it or our trek leaders ask them to return to the basecamp, witnessing their health conditions.
Heading to the Roopkund without prior preparation is something you're fooling yourself or putting your life under threat. Merely a walking practice for a fortnight or more will never do the magic instead can put your life at risk.
Trekking, for its ever-lasting memories and experience, demands just a few things which involve physical endurance with physiological wellness. Not just the one who's physically fit would do the magic in trekking but one also needs to be mentally fit as well in order to cope up with the adversities one might have to face during the treks such natural calamities, rains or other unforeseen conditions. To keep up with such requirements of trekking here are a few things you can do to get yourself physically fit.
---
Prerequisites of the Trek
Cardiovascular Endurance and Stamina
Cardiovascular endurance is the primordial thing that this trek asks for along with the stamina to withstand the stringent conditions during the trek. There are number of ways you can increase your endurance level but Jogging regularly with gradual increase in the pace would do the magic in just 2 or 2 and a half months. You can also increase your endurance and stamina through swimming, cycling and much more.
Combining the speed and distance target is the most effective way to get your body and mind prepared for the Roopkund Trek. If you're planning to build your stamina in a phased manner then here you should pay heed to:
Target completing the distance of 5 Km in 35 minutes or less at the beginning
Pace up your legs to complete the 5 Km in 30 minutes or less
Before you begin the trek, you should be able to complete 10 Km in 60 minutes or less
Strength
To build the strength is another most important thing and a major requirement for this trek. The whole journey of the trek is like an eternal staircase, the more you climb the better you can have the view. It goes with a climb followed by a flat then again, a climb followed by a flat. All the scenic beauty of the trek demands no less than the power of your legs.
The strength of your legs is something you need to work upon. Here is what you can do to strengthen your leg muscles to bear the pain of Roopkund trek.
Doing the squats can help. Goal for 3 sets of 15 repetitions without fail. You can begin with 8 squats in each set at the beginning, subject to your core strength for the exercise.
Flexibility
The more flexible you are the more you have the chances to get the glimpse with lesser hustle. Stretching is another major aspect of the trekking which provides you the much-needed flexibility to climb the altitudes with ease while carrying the backpack altogether is not an easier errand.
Stretching your body at large can bring you the utmost comfort during the trek. Here are some stretching you can do to get the flexibility-Stretch your hamstring, quadriceps, hip flexors, lower back muscles and shoulders. They'll give strength and help you arrive on the slopes with the relaxed muscles. All these exercises would help you to get through the trek with ease and comfort provided you give an ample time to these.
Cardiovascular Exercise
Cardiovascular exercise is one of the most sought-after method which provide not just the physical endurance but also the strength to withstand any unavoidable circumstances sternly. Trekking demands the high endurance which you can develop in a month or two where you need to begin with the jogging or running (only if you could do). This practice needs to be combined with the speed and distance targets. You need to keep on increasing both with the time.
Begin with the small chunks of the targets and gradually increase for the bigger one. For instance,
Begin with a target of completing a distance of 5km. in 45 minutes and then gradually increase it to 7 Km. in the same time and remain stick to this practice until you are able to cover 10 Km. in 80-90 minutes without fail, at a stretch.
---
Strength Building Exercise
Another vital area of improvement, you need to work upon. Before you head to the trek, you need to have the physical strength in order to carry backpacks on the uneven terrains. Considering everything under the sun, you ought to prepare yourself for the core strength. A strength would be make you suffer less than others who'd not pay the heed.
Flexibility
Flexibility in the body is what the trekking demands the most. Carrying the backpacks without flexibility in your hamstrings, quadriceps, shoulder, lateral sides etc. can prove out to be fatal. More the muscles relaxed, easier would be your trekking experience. Carrying a backpack, however light in weight, can bring you the unnecessary pain which may spoil your entire trek.
Concentration
To pacify yourself or any other companion, yoga and meditation are the key. These practices not only give you the mental peace but also provide you with a placid inner conscience which is extremely important in order to withstand the cons during the trek.
This also improves your decision-making ability in the direst stressful situations, during the trek.
Trek Was Excellent. Highly experience trek leader and Highly supporter. safety was Excellent. Overall Roopkund was a great trek all weather.
Anees Ahammed, Manipuram Kerela
Well equiped and helpful staff. Helped a lot during the submit. The snow was very hard to walk but was Made Succesful by the Staff.
Belal Neazi, Bareilly
A lot of hard work could be seen by the staff and trek guide. Things like water quality can be improved.
Ayushi Mishra, Gaziabad
Proper harmony of adventure & hard worker.
Anurag Jha, M.P
Overall the trek was a really memorable experience with the support of a well equipped staff and an experience guide besed the natural gift but the only problem being the water so please carry own bottels if necessary.
Shivam Adhikari, Kolkata
Good Experience. Team Was Helpful whenever Required.
Mushty Srividya, Tangulur, A.P
Good trek, Had a great experience & enjoy Trekveda participation in the trek.
Abhinav Podhuraju, Bangalore
I would totally Suggest. Provided with almost everything we asked for. Guides were very helping and good to us.
Apoorva gupta, Ghaziabad U.P
Wonderful Experience.
Ankita Jain, Delhi
Had a good experience.
Muthu kumaarr S, Chennai
It was very different experience and enjoyed every bit of it.
Ashwini Das O N, Bangalore
Had fun, and trip was a successful.
Azad Patodia, Sundargarh Orissa
First Trekking experience wonderful. Felt the place and love of the people.
Rahul Bhola
Best Trip.
Awdhesh Kumar, Varanasi
Staff is very good and hospitality has been very good.
Sunil Guduru, District Angul
First trek could not have got any better. Thank you Trekveda.
Varun Reddy, Hyderabad
Overall arrangements were great.
Ram Chandra Reddy, Gurgaon
My first and ultimate trip ever.
Deepak, Bhadurgarh Haryana
Very good team.
Abhishek, Noida
Overall good.
Sudip Dutta, Noida
Wonderful group, very carrying and look care of every need of each and every individual.
Kajal Basak, Noida
Would very much advice friends & relation. Is move on with Trekveda.
Madhuchandan Basak, Noida
All the team members of Trekveda guide, cook were very helpful.
Bhaskar Bhattacharya, Noida
Very caring & very nice.
Laboni Bhattacharya, Noida
Awesome crew perfect management.
Pranav Limbekar, Kolhapur Maharashtra
Great experience, good cooperation with staff members.
Tejas Patil, Kolhapur
Speacial thanks to Mr. Heera ji (Trek Leader) for excellent management. Food quality was great crew members were very helpful.
Daksh Dhankhar, Rohtak
It was fun. The food was good. The staff was very good supporter.
Nitin Negi, Kolkata
Excellent crew members. Supportive throughout the trek. Had an Excellent time and shall surely choose Trekveda over other organization next time.
Pallav Chakraborty, Kolkata
Crew members were very supportive, helpful. Overall very much satisfied with crew, and completed the trek succesfully and enjoyed it.
Rishav Singh, Kolkata
Overall excellent trek.
Sahil Lama, Kolkata
Awesome trip with excellent quality and nice crew members.
Madhuri Tamta, Almora
The Trek Leader were motivating. Polite/Friendly/Helpful. Overall perfect.
Sujit Ghule, Mumbai
Trek Leader was very good, motivating. Staff was very friendly and made us food comfortable. Only point to improve is food and timing.
Bharath Kumar, Chennai
Trekveda deliverd a very good experience in the Roopkund trek. The trek leader Mr. Surendra Singh Bisht was very motivating and friendly.
R. Bhargava, Chennai
An exploring journey very well organized. Overall excellent.
Nandini Singh, Rudrapur
Very good enjoy a lot. Trek Leader (Surendra Singh) was very motivating.
Paritosh Mankoti, Almora
Staff was really very co-oprative. Heera ji (trek leader) really took care of everything and made us comfortable. Surendra (co trek leader) was extremely cooperative and thanks to him. Without him we would not complete this trek. Trip was very thrilling and exciting.
Siddnesh R, Navi Mumbai
Very professional and afficient staff. Very motivating and carrying. Food service was very good.
Mayank Teotia, Gagiabad
A perfect trek for newcomers with all the positive energy supportive staff.
Rohit K Kothara, Navi Mumbai