Trekking boots are the most critical choice one makes while going on a trek as it all depends on the easy walk into the mountains; we must say it is the most important thing to have a perfectly fitted shoe along with that it must be fruitful for you, in your whole journey. Boots plays a significant rule, and there is no doubt that your trekking shoe must decide your fun, and adventure level.
In different trekking journey, one needs different trekking boots depends on the weather condition, trails, etc. therefore here are some measures to take care of while choosing better trekking boots.
Type of Trekking Boots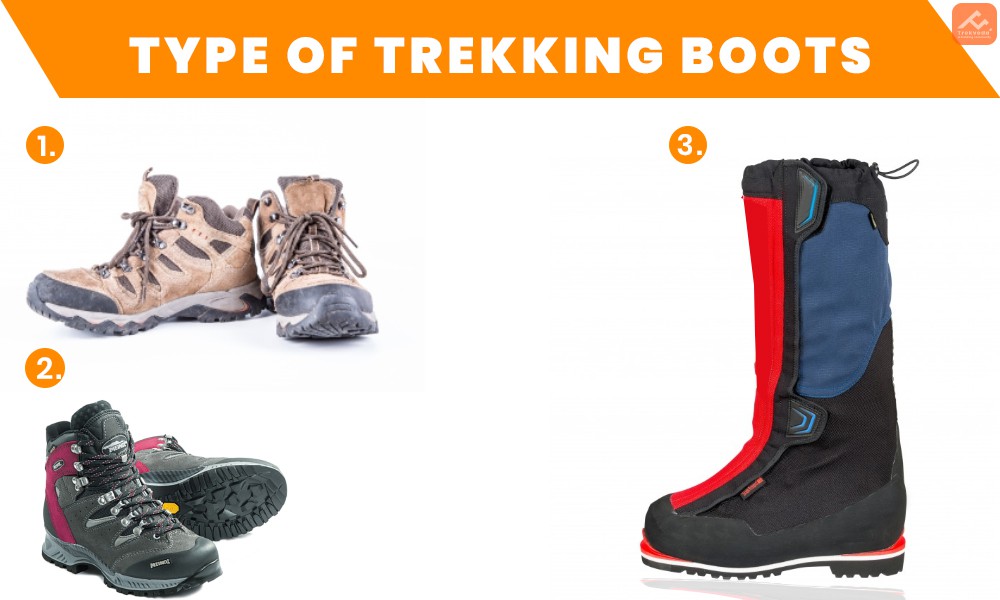 Hiking Boots: - Hiking Boots works more in easy trails, and trekking, Hiking Boots are flexible, and light weighted, works in an accessible path having a less rough pathway, crosses, etc, and these boots can be used for weekend trails, and treks that one day or weekend treks.
As Hiking Boots are lightly weighted so they can be used only for easy to moderate treks, they can be used in warm weather, and when one is not carrying heavy weight with them, and they may or may not be waterproof boots.
Trek Boots: - These are the upgraded version of the Hiking boots as they are stiff with robust sole inside out, they are usually leather, suede or synthetic made trek boots.
These boots have the ankle support in them that helps in balancing the leg muscles while walking on the rough trails, as they have ankle support, so they are heavy made stuff, that may take a little time for the first time to get used to of them.
These boots belong to those looking for longer trails, a long week trek in the rough terrains.
These are waterproof boots and are best suited in the snow, rainy season, and every slippery pathway, as the stuff sole protect, and the ankle support helps to keep the muscles balance in each step.
Expedition Boots: - Expedition Boots are the one, works in Challenging treks in tricky crosses, Glacier treks, the expedition are the longer treks sometimes more than ten days.
Expedition Boots are robust, and leather made boots best belongs to uncertain weather conditions such as snow, rainy, rough, and slippery. These are waterproof boots, they provide better ankle support, as an adventure can throw anything without warning, and expedition boots comes with attached crampons.
How to Choose a Right Pair of Trekking Boots
a: - Select the right pair according to the level of difficulty for instance for easy treks in warm weather, choose hiking boots. For easy to moderate treks like around weekend trek or more, choose trekking boots. For expeditions that come with uncertainties, choose expedition boots.
b: - Boots must have a better home for your toes, and ankle, it should have better support for an ankle to rest comfortably, as there stays chance of ankle twist in case one wear uncomfortable trekking boots.
c: - Your toes should rest comfortably in the boots so that it will not create any pain while walking.
d:- Always try your boots on the layers of socks that you will be wearing while trekking, like the boots, should be one size larger than your regular size.