Brahmatal Trek
Visiting new places, finding the mysteries and being a living example of touching the truth about various places is incredible. Himalayan trekking gives you a lifetime experience as it involves high mountains, rivers, valleys, forest and many such breathtaking views. It is enriched with the natural beauty which you can explore to a vast extend, as the experience is never ending. Uttarakhand is such place where people around the world visit to trek and gain a lifetime and unforgettable experience.
First of all, let us know the origin of the name of Brahmatal Lake. According to the Hindu Mythology, this is a lake where Lord Brahma meditated; therefore the lake was named as Brahma Tal.
Brahmatal trek is full of adventures and an exciting trek in winter. The heavy snow during the winter invites trekkers to take the challenge of trekking through the high altitude lakes, amazing peak views, ridge lines that never end and much more. Many trekkers just wait for winters to trek this Tal as it fully covered with snow and through the silent forests, you are able to hear the hare scampering. Let's explore about this trek and get to know the reason to go for Brahmatal Trek in India:
The impressive view of the Himalayas as you can see the Himalayan range from east to west.
There are a number of trekking routes to explore.
A perfect place to capture the breathtaking view of the stretching sky with the field covered with white snow.
This trek is just opposite to the famous Roopkund trek, which is one of the most attractive factors.
The best place to trek and explore during the winters, is the month of December or January.
The Brahmatal trek is at an altitude of 12,100 Ft. with approximate trekking of 22 kms. The best time to visit and explore Brahmatal is springs and winters. You pass through the exotic and stunning landscape like oak forest, snow fields and rhododendron. The majestic views of the nature, teases you to visit Brahmatal Trek and capture the natural beauty.
---
What makes this trip different?
According to our mythology, Lord Brahma, who is the lord of creation did meditation for many years in this place and therefore this place is known as Brahma Tal today which is one of the basic knowledge to have about this Tal.
Trekking towards Brahmatal will give you many sights which you won't be able to get in other such treks like the view of peaks such as Nandaghunti, Mrugathani, Trishul etc., trek through streams, conifers, hushed hamlets, beautiful valleys, etc. During winter you get an unparalleled and outstanding view of the Himalayas as the place is covered with a white shield of snow. Brahmatal has a lot of opportunities for capturing the nature's beauty at its best!
---
Trek Itinerary
Brahamatal Trek: Essentials
Trekking, no doubt, is one of the most thrilling adventure one could ever have in his/her life. With an elegance of nature and unmatchable experience of the pristine mountain ranges, trekking stands out among all the adventures across the world, but nothing comes free, there are certain aspects of the trekking which one needs to consider while he/she is making up his/her mind for trekking. Here's a list of some basic requirements which one would need during his/her camp trekking. Let's pay some heed to these prerequisites for trekking.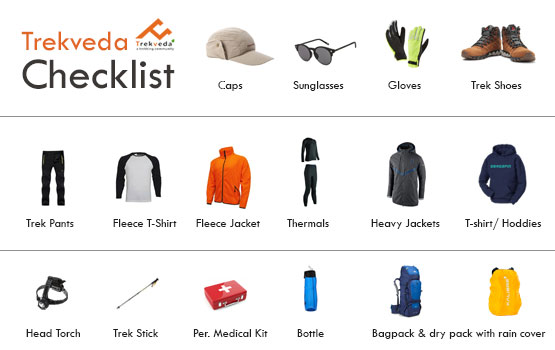 Trek Essentials to Carry with Yourself.
Things You Can't Afford Missing On Trek
1. A Sturdy Backpack/Rug Sack
A high-quality backpack with an ease of carrying facility with durable and stern straps is one of the pivotal thing that you'd need during the entire trekking. The easier it's to carry, the more fun you can have during your trek.
2. A Pair of Trekking Shoes
Your regular sports shoes can be a mess during the trek and one of the most regretting thing that might take away the joy of trekking. To prevent yourself from slippery patches through the streams, a pair of trekking shoes with good grip would do a great work for you and reciprocate your experience of trekking to the manifolds.
---
Clothing
Clothing is one of the most important aspect of trekking but that doesn't imply the "what if situation", hence carry the clothes that you'd need normally. Carrying more and more clothes will only add the weight, thus problem. Once on the trek, you'd not generally need to change the clothes every now and then, provided if you maintain your hygiene properly.
Three warm layers: On high altitude treks, temperature after the sunset drops to the considerable degrees. So during these campsites, you might need an additional layer along with the padded jacket coupled up with a fleece and a warmer.
Three trek pants: Please don't go for jeans/ denims for the substitute for the trek pants since they'd not add comfort to your stay at the campsites. Wear one pair and carry the remaining two.
Three collared Shirts: It's advised to wear full sleeved shirts instead of the t-shirts in order to prevent ourselves from the sun-burn. Carrying a dry-fit t-shirt or two can be a wise idea if you're trekking during the rainy season. Regardless of the cold weather, trekkers' bodies tend to sweat and to prevent yourself from falling ill, you're advised to change your clothes at campsites.
Warmers: Warmers or thermals can be added on one's own concern related to their health and their exposure to the cold climate.
---
Accessories
Shades: Sunglasses are to counteract snow visual deficiency. While at the same time you're probably not going to discover snow in October, convey a couple in any case.
Sun cap: The sun feels more grounded while at the same time strolling on the mountain slants. Convey a sun cap to shield your head and neck from the warmth, particularly in case you're trekking later in the day.
Engineered hand gloves: One sets of downy or woolen hand gloves. One sets of water evidence/safe, wind verification gloves.
Balaclava: You may utilize woolen scarves rather too.
Socks (2 sets): Apart from two sports socks, you can take a couple of woolen socks for the night as they'd spare you from the dripping temperature.
Headlamp/LED burn: Mandatory
Trekking pole: Having a trekking pole in your hand during the trek is boon, although at times it may bother you as an unnecessary article but it proves out most handy during the submit as it curbs your effort of straight inclinations of the high altitudes which often turns out tiring.
---
Other Essentials to Carry
An Additional Pack: This is one of the best practice you can do on one-day submits or treks where you need to get back to your campsite by the end of the day. Here you can pack your essentials like, water bottle, medical aids and snacks. This keeps you away from carrying the unnecessary weight.
Toiletries: Be wise while choosing your cosmetic needs and daily use products. Refrain from using the non-biodegradable products, if you do so then make sure that you leave residue on the mountains. Always carry a zip bag to put such piece of stuff after use. Sanitary napkins also needs to be treated in the same manner.
Indispensable Water Bottles: To keep your body hydrated during the trek, you are advised to carry your own water bottles during the treks since leaving plastic and its product is not advised on the mountains since they are not suitable for the environment of the altitudes.
Plastic Bags: To keep everything organized, you should compartmentalize the stuffs into plastic zip bags and also carry a few in spare for wet clothes and other by-products.
---
Mandatory Documentation
There are certain rules and laws that you need to abide by, while going for the treks, however Trekveda takes care of all such kind paper works which is inclusive in the package. Certain registration fees and document verification along with some permissions are required in order to protect the nature and its evergreen heritage for future. In addition to this, if you need to avail a guide, you can also hire a guide with some bucks and a nominal paper work.
Please carry the documents mentioned below. Documents two and three need to be downloaded (PDF), filled in, signed and handed over to the trek leader at the base camp.
1 passport size photos and an original + copy of government photo ID document – required for Sanctuary registration and TIMS (Trekker's Information Management System)
Medical Certificate (first part to be filled by a doctor and second part by the trekker)
Disclaimer form (to be filled by the trekker)
Measures Taken by Trekveda to Ensure the Security of Trekkers
Trekking is altogether a different kind of adventure where you required to be physically and mentally prepared for the best and adverse, all at once. With high altitudes making it tough to breath, the scenic beauty of those pristine mountains leave you spell-bounded so that you forget to breath for a moment or two. In addition to the physical and mental preparation, there are certain aspect of the health that are needed to be considered at the first hand when you make up your mind for the trekking,
Trekveda, by dint of its team of trained professionals, leave no stone unturned to provide you with the best trekking experience while ensuring your safety as its priority. Here are some vital aspects that Trekveda includes in its checklist to ensure the safety of its trekkers.
Criteria for Fitness Analysis
Trekking at high altitudes demands endurance and fitness and those who are prone to any kind of physical or physiological ailments are advised to not to go for high altitude treks in the beginning. To get assurance about the trekker's fitness, we comply with certain aspects of the being fit such as BMI (Body Mass Index) along with the fitness proof since we can't put the trekkers into the risk.
Acclimatization is another important aspect when it comes to getting an adaptation to the climate at the high range treks. A day at rest is not just the rest but a chance to get used to of the place and its habitat.
Monitoring the health is one thing that is conducted regularly during the trek by the trek leaders which includes the monitoring of your blood pressure, oxygen level and pulse rate. Details of your health during the trek is maintained in the health card on the regular basis. Health card can be collected from the trek leader at the end of the trek.
Medical Kit for High Range Trekking
An ideal medical kit that's developed for the trekking has Blood Pressure Monitor/checker, Stature, Oxygen checker and Oxygen Cylinder coupled up with certain must have medicines, in case of medical emergency:
Diamox
Dexamethasone
Dexamethasone
Nifidipine
Asthalin Inhaler
Syringes
Trekking Equipment for High Altitudes
Trekveda provide you all the necessary equipment for trekking from tents to ropes. In addition to that, our trek leaders also ensure the safety by various safeguards they take time to time for your safety. Micro spikes are provided to attach to your shoes which help you to keep the traction on the snow and make it easier to climb. An additional gaiters are provided to cover the shows which prevent the entering of snow into the shoes. Customized tents are provided to the trekkers which ensure the warmth and temperature 10 degrees higher than the outside coupled up with high quality sleeping bags which can endure the temperature up to 15 degree Celsius below the freezing point.
Nutrition and Hydration
Trekveda, keep all your nutritional and hydration requirements on its checklist, our trek leaders will guide you to keep your body hydrated on the high altitudes as de-hydration can attract to the severe medical emergencies on high altitude treks.
We provide the highly nutritious meal to energize your body for the trek, however before certain long trails we ensure your nutritional requirements to be fulfilled with some high energy snacks or packaged lunch.
Make sure you keep up with your hydration and nutritional part as this can lead to some fatal consequences for your health.
In case of any symptoms you feel during the trek, don't ignore or avoid them, immediately tell the trek leader.
Keeping up with the pre-defined processes and the guidelines will help you to have a memorable trekking experience.
---
What Trekveda has to offer in case of medical emergency like AMS, HAPE or HACE?
In case of medical emergencies, Trekveda and its trek leaders bear the sole responsibility to get you back to your wellbeing with their training and techniques. Suspecting any physiological disturbance in your body, immediately report to your trek leader as they are trained to counter such problems.
Problems like Acute Mountain Sickness can be prove fatal if not taken into consideration seriously on time. If you encounter/experience any of the symptoms such as persistent headache, fatigue or weakness, nausea, dizziness, loss of appetite, difficulty in sleeping, you shouldn't let it go or treat it by your own either.
Acute mountain sickness is one of the most common yet the fatal problem trekkers face due to number of reasons, if the problem continues to persist, then you're advised to descend down to the basecamp and then to visit the doctor immediately.
People with AMS are treated with number of medicines such Diamox, Nifidipine etc. coupled up with methods like Triple One Test- where one disprin is given with a liter of water along with the rest for an hour.
While AMS is most common at the high altitudes yet it can't be risked taken casually as it leads to severe fatal conditions like HAPE (High Altitude Pulmonary Edema) or HACE (High Altitude Cerebral Edema) which, if not treated on time can lead to number of serious chronic disorders. These conditions need to not to comply with AMS, they can occur without AMS preceding.
It's suggested to take every single disturbance into the consideration while you're on the trek.
However, Trekveda is capable of tackling all the medical emergencies with its trained professionals yet there are several things that you need to consider, specially the intake of medicines and the knowledge about their advantages and side-effects. Don't administer the medicine if you're trekking through an organization, always seek help from the trek leaders, they are trained for such purposes, while in case of being a solo trekker, you should know about the medicines.
Keeping yourself hydrated and nutritionally fulfilled curbs the chances of AMS.
---
Risk and Response
A high altitude trek requires an audacious state of mind, however leaving on a bold excursion without computing the dangers is absolute idiocy. That is the reason we have recorded a couple of Risk and the Response arranged by Trekveda to limit or address the dangers in the most ideal way.
Risk: Altitude
Before you begin the trek, it is critical to comprehend the ramifications of high altitude on your body. Know about side effects of AMS (Acute Mountain Sickness) like mellow cerebral pain, queasiness and general distress.
Response: If you feel any of these indications, illuminate the trek pioneer on need and take after his directions. Each campground has as stretcher, completely prepared medical aid pack, oxygen chambers to address the circumstance.
Risk: Weather
Weather is unusual in the Himalayas. Despite the fact that we are constantly attentive about the evolving climate, nobody can ensure a snowfall, rain or Sun. Do comprehend that your security is of most extreme significance to us and we won't continue any further from the campground if the climate isn't ideal.
Response: The choice of the Trek Leaders and Guides to continue or sit tight for the climate to show signs of improvement will be last.
Risk: Injuries
Often, while trekking over troublesome territories, you may have minor wounds like leg sprain, wounds and so forth. Genuine wounds like breaks or real cuts are exceptionally uncommon.
Response: All our Trek Leaders are Certified Wilderness First Aid responders. They are prepared to deal with crises and can handle minor wounds with an all-around prepared medical aid unit. If there should arise an occurrence of genuine wounds, the patient is carried on a stretcher to the closest street head and is directed to closest therapeutic focus.
Risk: Lack of Communication
In the remote zones of the Himalayas, portable systems don't reach. On a trek, one is cut off from the universe of calls, SMS or WhatsApp Messages.
Response: We'd depend on walkie-talkies and sprinters to communicate between the campgrounds and the base camps.
Brahamatal Trek Route
The Dehradun station is one of the principle stations in the area and it is an old station. It has great availability to numerous spots and these incorporate Lucknow, Delhi, and Howrah. Tickets from Delhi to Dehradun via train cost around Rs. 150 for an inferior sleeper ticket and Rs. 400 for a third A/C sleeper ticket.
Via Train
There are 19 different trains available between Delhi to Dehradun.
Nanda Devi, Jan Shatabdi, mussoorie express and Dehradun express are the best options among them.
By Bus
Normal transports employ from Kashmiri gate Delhi to Dehradun.
Via Flight
You can get a flight between new Delhi to Jolly Grant.
Distance between the Jolly Grant to Dehradun is 28 Km.
It will take half hour drive to reach Dehradun.
Other transportation
Would recommend you to take just government transports from Kashmiri gate Delhi. Private transports handle from outside ISBT and they are not confiding in value.
Shared Taxis or comparable vehicles will get you from Dehradun Railway Station at 6:00am.
Pre-Trek Preparations
Trekking, for its ever-lasting memories and experience, demands just a few things which involve physical endurance with physiological wellness. Not just the one who's physically fit would do the magic in trekking but one also needs to be mentally fit as well in order to cope up with the adversities one might have to face during the treks such natural calamities, rains or other unforeseen conditions. To keep up with such requirements of trekking here are a few things you can do to get yourself physically fit.
---
Prerequisites of the Trek
Cardiovascular Endurance and Stamina
Cardiovascular endurance is the primordial thing that this trek asks for along with the stamina to withstand the stringent conditions during the trek. There are number of ways you can increase your endurance level but Jogging regularly with gradual increase in the pace would do the magic in just 2 or 2 and a half months. You can also increase your endurance and stamina through swimming, cycling and much more.
Combining the speed and distance target is the most effective way to get your body and mind prepared for the Trek. If you're planning to build your stamina in a phased manner then here you should pay heed to:
Target completing the distance of 5 km in 35 minutes or less at the beginning
Pace up your legs to complete the 5 km in 30 minutes or less
Before you begin the trek, you should be able to complete 10 km in 60 minutes or less
Strength
To build the strength is another most important thing and a major requirement for this trek. The whole journey of the trek is like an eternal staircase, the more you climb the better you can have the view. It goes with a climb followed by a flat then again, a climb followed by a flat. All the scenic beauty of the trek demands no less than the power of your legs.
The strength of your legs is something you need to work upon. Here is what you can do to strengthen your leg muscles to bear the pain of the trek.
Doing the squats can help. Goal for 3 sets of 15 repetitions without fail. You can begin with 8 squats in each set at the beginning, subject to your core strength for the exercise.
Flexibility
The more flexible you are the more you have the chances to get the glimpse with lesser hustle. Stretching is another major aspect of the trekking which provides you the much-needed flexibility to climb the altitudes with ease while carrying the backpack altogether is not an easier errand.
Stretching your body at large can bring you the utmost comfort during the trek. Here are some stretching you can do to get the flexibility-Stretch your hamstring, quadriceps, hip flexors, lower back muscles and shoulders. They'll give strength and help you arrive on the slopes with the relaxed muscles. All these exercises would help you to get through the trek with ease and comfort provided you give an ample time to these.
Cardiovascular Exercise
Cardiovascular exercise is one of the most sought-after method which provide not just the physical endurance but also the strength to withstand any unavoidable circumstances sternly. Trekking demands the high endurance which you can develop in a month or two where you need to begin with the jogging or running (only if you could do). This practice needs to be combined with the speed and distance targets. You need to keep on increasing both with the time.
Begin with the small chunks of the targets and gradually increase for the bigger one. For instance,
Begin with a target of completing a distance of 5km. in 45 minutes and then gradually increase it to 7 km. in the same time and remain stick to this practice until you are able to cover 10 km. in 80-90 minutes without fail, at a stretch.
---
Strength Building Exercise
Another vital area of improvement, you need to work upon. Before you head to the trek, you need to have the physical strength in order to carry backpacks on the uneven terrains. Considering everything under the sun, you ought to prepare yourself for the core strength. A strength would be make you suffer less than others who'd not pay the heed.
Flexibility
Flexibility in the body is what the trekking demands the most. Carrying the backpacks without flexibility in your hamstrings, quadriceps, shoulder, lateral sides etc. can prove out to be fatal. More the muscles relaxed, easier would be your trekking experience. Carrying a backpack, however light in weight, can bring you the unnecessary pain which may spoil your entire trek.
Concentration
To pacify yourself or any other companion, yoga and meditation are the key. These practices not only give you the mental peace but also provide you with a placid inner conscience which is extremely important in order to withstand the cons during the trek.
This also improves your decision-making ability in the direst stressful situations, during the trek.
What you need to know about the trek expense
The trek expense of Rs. 7,599 + 5% GST takes care of all expenses of the trek from Lohajung to Lohajung.
Here is what the trek fee includes:
Accommodation – Stay is included from Day 1 to the last day of the trek. You will be staying in the guest houses of the respective locations & camping on remaining days of the trek.
Meals – All meals from dinner on Day 1 to breakfast till last day of the trek are included. We provide simple, nutritious vegetarian food on all days of the trek.
Camping Charges – All trekking permits and forest camping charges are included.
Trekking Equipment – You will stay in high quality tents and sleeping bags in all the camps. Our high-altitude sleeping bags can withstand temperatures as low as -10 ºC. We provide ice axes, roped, micro spikes, gaiters etc. as required.
Safety Equipment – First aid, medical kit, oxygen cylinders, stretchers etc. will be available at all campsites to deal with emergencies.
Services of an expert Trek Leader – All our trek leaders are qualified in basic / advanced mountaineering courses.
Services of an expert Trek Team – The mountain staff on this trek consists of well-trained guides, cooks, helpers and porters.
Here is what the trek fee excludes:
Transport to and from the base camp – Trekveda will offer the taxi services from and to the base camp.
Food during transit to and from the base camp – The trek fee does not include meals purchased during the journey to and from the basecamp.
Backpack offloading charges - If you wish to offload your backpack, there will be an additional charge of Rs. 1200 + 5% GST. The backpack cannot weigh more than 9 kgs. Suitcases/strollers/duffel bags will not be allowed. Please note that charges will vary for last minute offloading in case you decide to offload your bag after reaching the basecamp (Rs. 1400 + 5% GST). Online offloading in advance is possible up to two days prior to the trek start date.
Stay at hill station on the last day.
Personal expenses of any kind.
Anything apart from inclusions.
Buffer day – It is mandatory to have this extra day as any bad weather or rain will delay your pass crossing. If buffer day is utilized, you will need to pay Rs. 1,700 + 5% GST. This amount is to be handed over to your trek leader.
---
Terms and Conditions
Cancellation: In case of trek cancellation due to any natural hazard or any other reason (like rain, strike etc.) Trekveda will undertake the whole responsibility of the amount as per its refund policy. Trekveda will provide its clients with a voucher which can be redeemed for any trek in the next one year.

Or if you wish to call off the trek voluntarily at the last moment, in this case only the mail requests at cancel@trekveda.com or contact at +91 7078701964 will be entertained.

While making a cancellation request, kindly brief the reason in the mail. Cancellation charges will vary as per the request period, which is as follows

Prior cancellation 40 days from the start of the trek is 90% refundable.
Cancellation between 40 to 20 days from the start of the trek is 45% refundable.
Cancellation between 20 to 10 days from the start of the trek is 10% refundable.
Cancellation within 10 days from the start of the trek is non-refundable.

Please Note: In case of refund, there will be a deduction of 4% (bank charges) from the total fee you have paid. Also, if you have opted for a trek insurance, the amount will not be refunded. In the process of refunding the amount, it may take 15 working days to credit on your bank account.

Note:

Change of trek batch is dependent on the availability of seats in the batch.
In case of transferring a trek to a friend, he/she should satisfy all the mandatory requirements put forward by Trekveda.
Trekveda holds the right to change/cancel the policies, without prior notice.
The cancellation policy will be same whether you are cancelling your trek just after booking the trek.

The trek fee includes all costs of the trek from the start at the base camp to the end.
Emergency during trek: In case of medical emergency, the trekker will be taken care at the primary stage since we don't accompany the doctors during the trek, however our trek leaders are trained for the first-aid treatment. Post the first-aid Trekveda will take the liability to send down the trekker to the nearest basecamp or road head.
Fitness: Before you head to plan a Chadar trek, your body fitness needs to be maintained for the high-altitude Himalayan treks since level of oxygen is considerably low at high ranges, thus proper cardiovascular training is a vital component of pre-trek preparation.
Non-liability: Trekveda is not responsible for any loss/damage of your gears/equipment or other belongings on the trek.
Payment: Payment for the trek can be done online through credit/debit card or net banking. Cheque/draft or cash is not accepted.
Drinking and Smoking during the trek is strictly prohibited. If found flouting the rules, your participation on the trek will be cancelled with immediate effect.
My first Himalaya trek it is good more than I expected.
V. Kalyan
Awesome trek leader and staff, food quality is great, 4 day spend well. I will definitely come back for a trek with Trekveda.
Aman Jain
Amazing experience Surendra and team is simply outstanding, well spoken, funny and very helpful. They have proper equipment, tents, sleeping bags and all things are very nicely managed. The food during trek is delicious and very clean, tidy and tasty. I would recommend Trekveda for every trek and Surendra you are a Rock Star.
Sagar Bhagwe
Trek was very good had a very good experience with the camping, trekking and the summit. Trek leader was very strict, but friendly helpful would love to trek again with same person. Overall it was very good experience.
Raja Jaiswal
Surendra, Hukum, Bhuwan was excellent & trek leader. They are very good. food quality was amazing and the staff behavior was excellent.
Karan Kaira
Trek is good, but I miss the snowfall, food was very good & amazing.
Kuntak Banerjee
Trek leader was very good. Suri paji was very good person and the food was very tasty & yummy.
Vipul
Very good trekking experience would love to do trekking with Trekveda and the same leader again. Food was great in taste & variety. Safety equipment was best quality & communication skills each other was great.
Basudev Chaudhary
The trek was amazing, so was the trek team. Trek team was very supporting. Breakfasts was yummy & tasty.
Lavisn Singhal
Well organized and good conduct of staff.
Pradeep Kumar Jagdale
Trek leader motivated us to climb to the mountain and the staff was so friendly. We had great fun and the staff helped in the medical issues every time, and trek became successful just because of the staff.
Revanth
Everything was awesome, the guides were really friendly helpful.
Ponna Anirudh
Wonderful experience with Kadam, Padam & Surrender ji, excellent guidance & motivational person.
Arnav Das
It was my first trek, the experience was awesome, and all the facilities were available. The guiders were very responsible and careful, the food was also good.
Tanay Saha
The trekking experience was really very good, the trek leader and the staff were very joy full, helpful and cheerful, they motivated us the whole trek and because of could complete the trek without any problem.
Ravi Anand
This was first trek and we enjoyed a lot here, the trek leader Surrender bhaiyaa was too good, very co-operative, all the staff was very co-operative. The food provided during trek was very healthy & yummy, overall my experience with trekveda was very good.
Rimpa Nandi
First main point was the food quality provided was excellent at that height of hills. Trek from last camp to Brahamatal was excellent, because we wake up at 3 AM (different experience). We reached to the top before sunrise which was another experience. I liked Trekveda very much for organized team.
Phanikumar Pentyala
Food, trip enjoyed a lot.
B. Suresh
It was good, perfect for medium level trek, specially thanks for kalam ji for awesome photography.
Nikhil Mannan
Well organized and food quality was very good, the staff was very helpful.
Sachin Chayan
Kalam ji our co-guide were very helpful, i enjoyed the trip. Our trek leader was experienced & good.
Rishabh Sahare