Start

01 May 2019

End

31 May 2019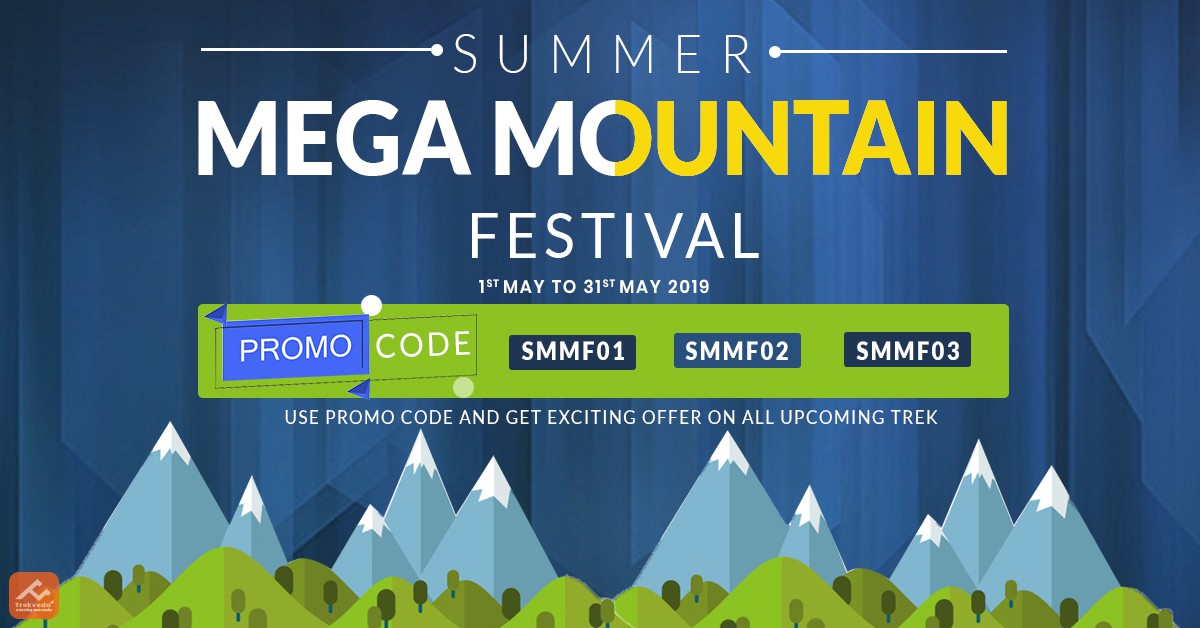 ---
Jobs fill your pocket but adventure fills your soul" and you know that, the summer is knocking the door.
Climbing the mountains is an ultimate feeling where one can see the world from the top, admire the beauty of nature and the most important make a connection with their soul.
Therefore, this summer, Trekveda team is organizing its "Summer Mega Mountain festival" for you, everyone waits for the summer eagerly to go out and have a fabulous time, so this time why not choose mountains over beaches.
Mountains can be the best escape from the ordinary; the tranquil surrounding of the mountains will not let you think of anything else.
The soothing greens in the mountains will make you feel lively, and the heat that directly hit your body will change totally into the soft light.
Going to the mountains is the best way by which you can have lots of fun along with that you will be able to discover so much about nature.
A wavy cold breeze touches the face, and the fresh waves of air can heal everything, the busy schedule of city life where the mind is occupied with lots of thoughts.
SO there are mountains heal everything and make you regain your energy to kick start the life again, Mountains, on the other hand, relax the soul and the body.
This "Summer Mega Mountain festival" is created for all the trekking lovers, and as we care about our trekkers and their preferences so this summer, we are celebrating this "Summer Mega Mountains festival."
The festival will be a fruitful opportunity for you to celebrate in the mountains by getting many impressive offers from our side.
As the festival is organized for our beloved trekkers, therefore we are happy to announce that in this "Summer Mega Mountain festival" there are many offers to unfold from free rental gears to discounted treks.
You are supporting us since so long, so this time it is our responsibility to make this summer lively for the people who are passionate about trekking.
As Trekveda believes in offering the unique services to the trekkers and the exciting destinations to visit in the mountains, making the treks adventurous along with experienced one.
As we are nestled in the whole Himalayan range, and now exploring the Nepal Himalayas as well so this could be the most excellent chance for the trekkers to trek to their dream trekking destinations.
Each Himalayan trek is so unique and admirable whether it is in Uttarakhand, Himachal or Nepal, many have a misconception that mountains are the same, but there is a big NO! As each state has a glimpse of the Himalayas and each destination gives the splendid vista which is unique and beautiful.
We are in many states such as Uttarakhand, Himachal Pradesh, Sikkim, Jammu & Kashmir, and now in Nepal too, so you have an excellent opportunity to trek to any of your favorite places in better discount.
In this "Summer Mega Mountains Festival," you will be benefitted with offers like Free Rental gears that include Jackets, trek poles and trek shoes of the best quality and you do not need to spend extra money on your gears, it will be of the best quality and will be free on rent.
Isn't it cool you are going to the mountains, and you have to spend so less money?
Not just that but you will also get the flat 10% discount on every trek in our trekking list,
What are you waiting for now? Book the trek with us in the discount and enjoy to the fullest.
Along with that, you will get the customized t-shirts in offer with your name and the summit name printed in it.
So you can grab any offer you want by using the below-mentioned promo code.
Promo code for Rental gear: - SMMF01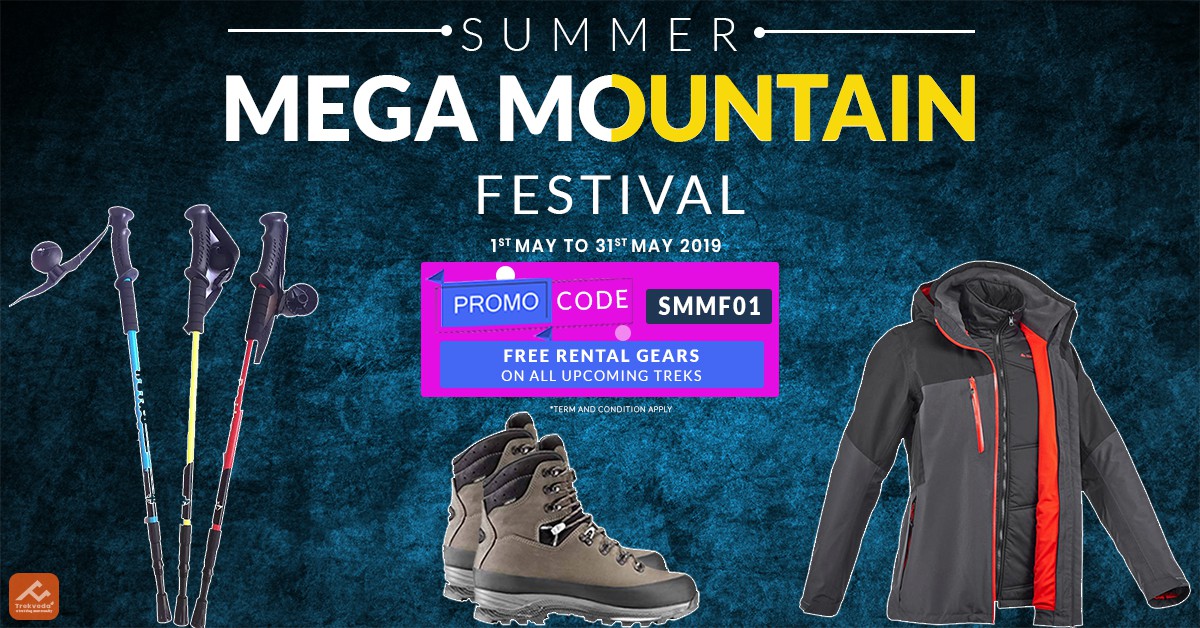 Flat 10% off on trek: - SMMF02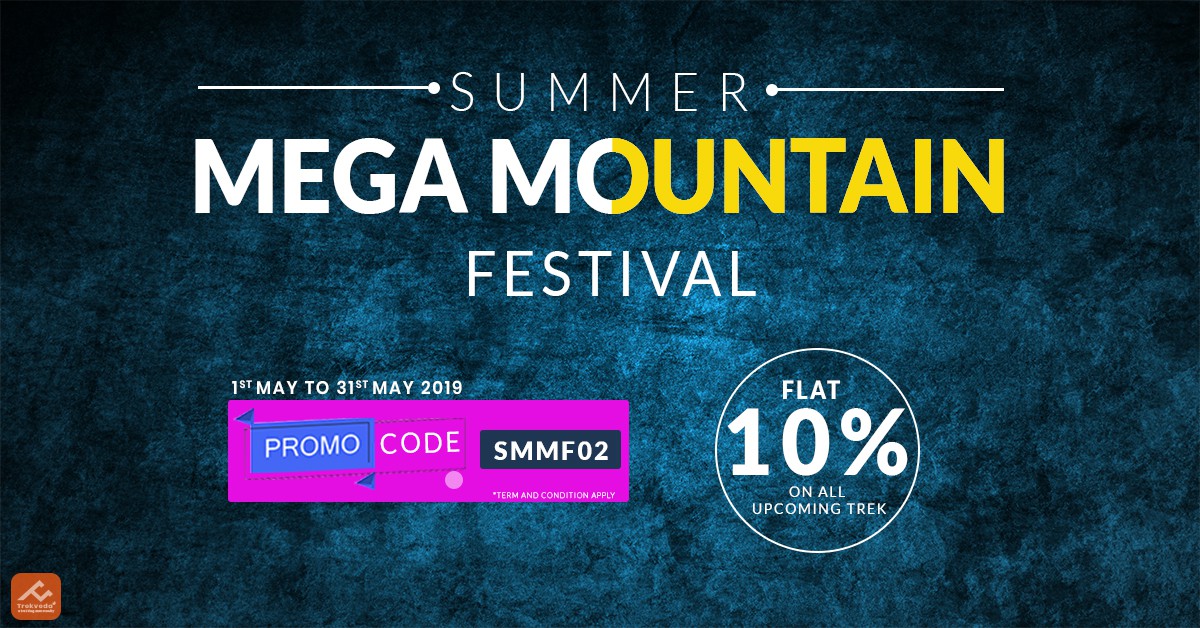 Customize T-shirt:- SMMF03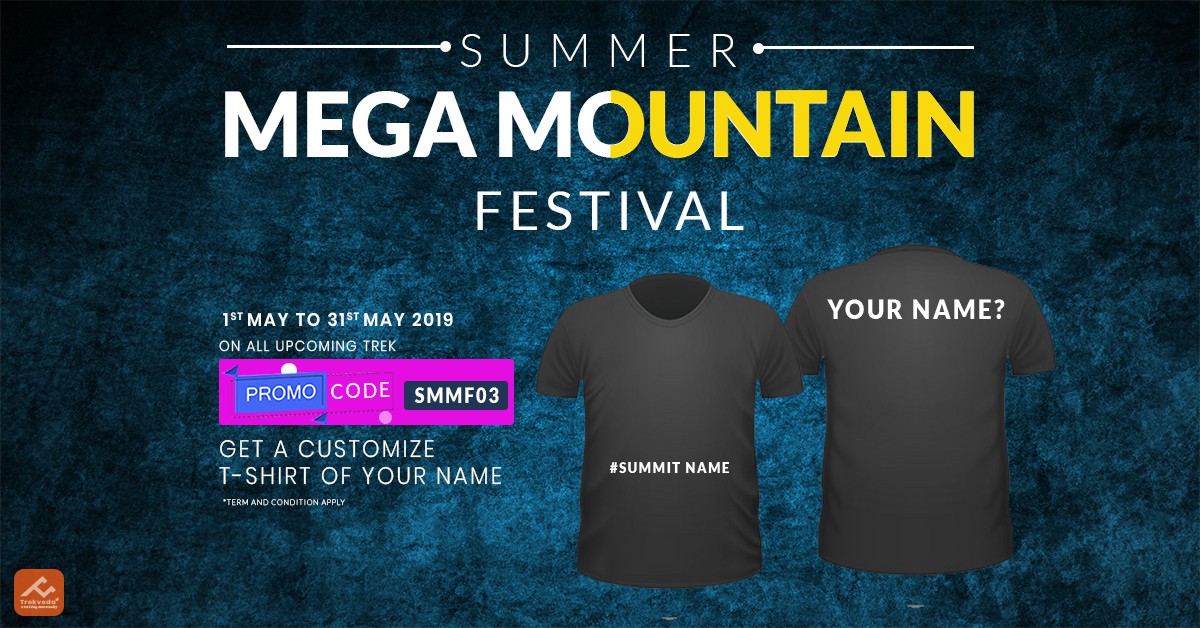 ---
Terms & Condition:
This offer is applicable for all customers.
This offer is applicable on upcoming treks, which are in upcoming trek list.
Offer can be use while booking of any upcoming available trek.
You will get your benifits in base camp for Customize T-shirt and free Rental gears.
If you use (SMMFO2) this promocode while booking you will get Flat 10% off on any trek.
Offer valid till 31 May 2019.