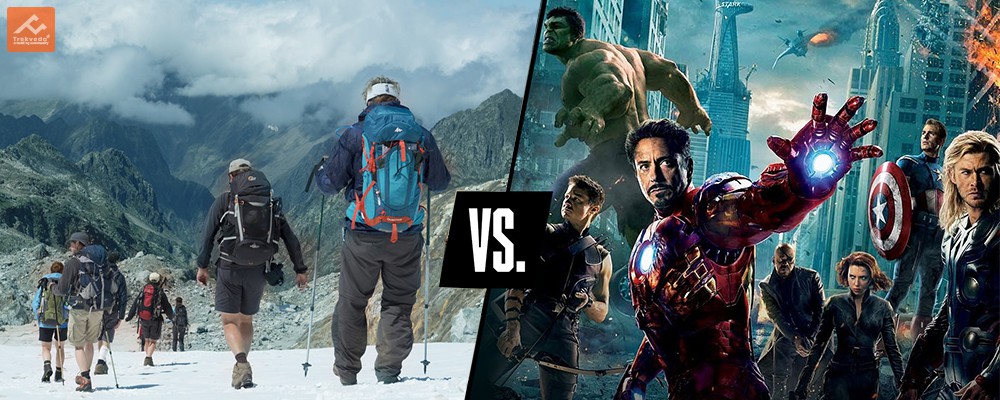 Avengers Endgame is a sensation now a days.
---
Avengers Endgame is shooting everyone's head nowadays; we have born watching marvel series.
People have their favorite avenger's, and there is no denying that each marvel series is so close to one's heart since the start till end.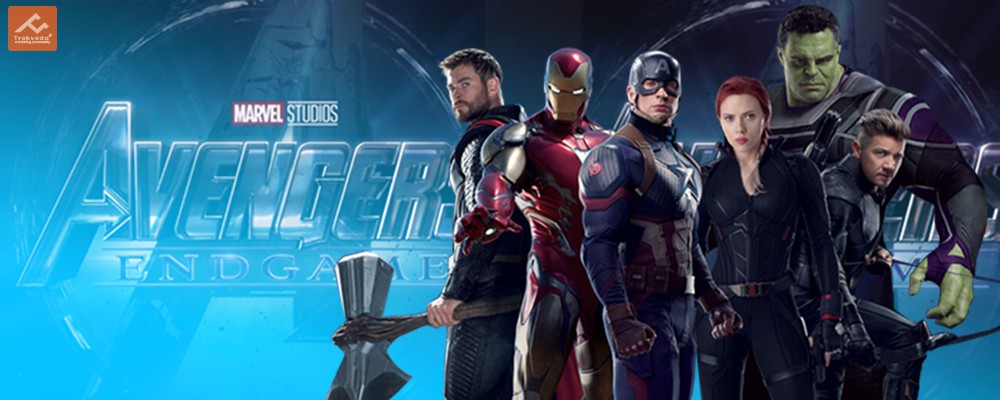 So ready to perform your favorite Avenger in the mountains.
Now the sensation is Avengers Endgame and people are so enthusiastic about watching the movie to know the climax, relax!! There is no spoiler for you.
But you will be impressed by the thought that you can relate with your favorite Avenger in your trekking journey as each Avenger has different attributes in them so do every trek perform with their different powers in the mountains.
How interesting it would be if your full trekking batch can be each avenger you dream of having a team like, isn't it cool.
You are in the mountains, the adventurous pathways the uncertain weather and you have to conquer the summit, now you are your favorite Avenger in each step.
So ready to perform your favorite Avenger in the mountains? And flight the battle against your enemies.
Are you a fan of an Iron man, everybody is and we know his power lies in his armor to fight back so do yours in your trekking outfit without it you cannot conquer the summit, as the armor gives power to an iron man.
The same your trekking outfit gives you the power to climb into the mountains, it makes you strong and sturdy, so better to wear your strengths like an iron man and you will create the history buddy,
---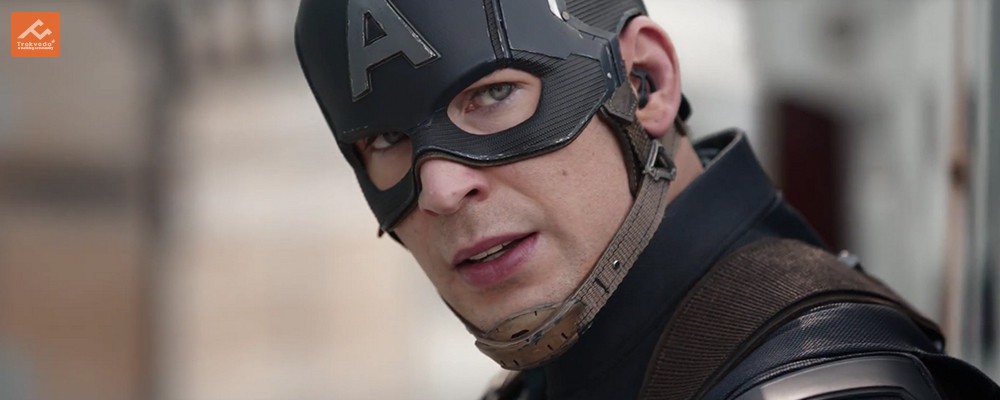 Another hero is Captain America the positive superhuman, a good leader, and we all know about his power the "Shield" that always protects him from every flight, captain America is courageous and never gives up, I want to be like him and you?
For sure because more than your physical strength first you need to be mentally strong and intellect then you are unstoppable.
While trekking if you have these attributes of Captain America then you are ready for the magic of your strength as he has his shield, you have your trekking gears to protect you in the voyage.
When talking about Captain America, he shares a good level of trust with the black widow as they seem to have a good bond and trust in each there, so it's mandatory to talk about her attributes as well.
Now think of you like a black widow in the mountains, no no not exactly the way she wears her outfit as it won't go with your mountain look.
But her encouragement towards each team member as you know she helps iron man to know his worth in a team that is how you can be the black widow; tough, ambitious, and giving up?
Uhh!!! You kick start your day with enthusiasm, and you are the passionate one who wants to climb till she reaches the peak of the mountain isn't it the best thing to be so ambitious and courageous.
In the mountains you can nail it by being like a black widow, never gives up neither in hard mountain patches, in climbing by cutting the snow; hey you are the superhuman go and conquer the summit.
Moving further we all have an idea about Natasha and Hulk friendship right? They shared a good interaction but after hulked out heroes they interacted less, but as superheroes both were amazing.
As I told you about the black widow's power and how one can perform in the mountains, now how about hulk?
His powers are phenomenal though sometimes he is aggressive; nothing can stop him as his strength is of higher level with good planning skills in the team.
So what about your skills and strength, for trekking you need to be healthy enough, and you need to exercise a lot before planning a trek, and that is how you will be able to maintain your strength.
It is the essential thing you need in trekking, and for being like Hulk as in his being similar to his strength, one needs to work before going for a trek.
So what are you waiting for gain the strength and rock your trekking journey like hulk nail it in all the Marvel series?
---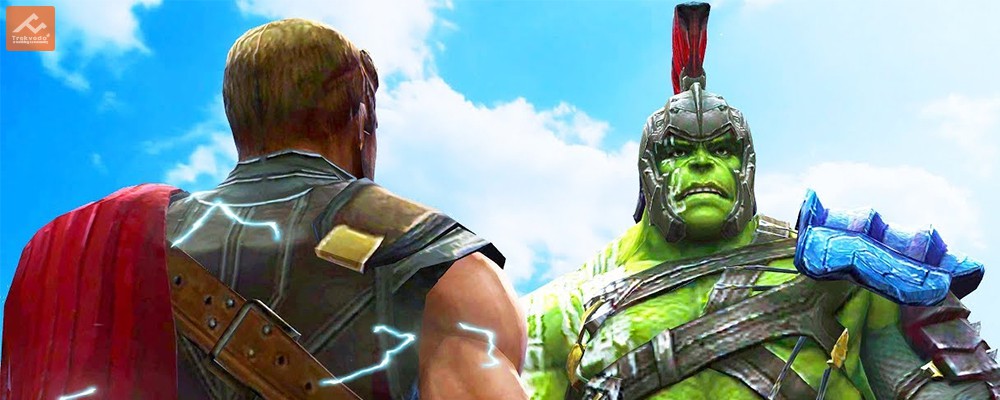 Hulk is the strongest superhero we all agree too but wait who wholeheartedly disagree to this fact that is "Thor," Hulk relation with Thor is all about physical dexterity as Thor never agrees to the power of Hulk.
Sometime hulk has to prove it that he is so powerful, so they both have the issues of power with each other, but both are competitive.
"Thor" has the higher level of strength and stamina same as Hulk as his metabolism were more than average than any other Asgardians he has the ultimate power to fight back.
So is he your favorite superheros if yes then start gaining the strength and stamina he consists of working-out eating healthy food, running and a lot more along with the fit mind like all the superheroes.
In case he isn't your favorite; still, he is an ideal as he consists of every attribute that a trekker needs in them while trekking to the mountains.
Want to go long till the peak you always need to maintain certain physical and mental health and you can do it by working out be the Thor, Hulk, black widow, captain America or iron man in your trekking journey live it like a Marvel movie.
Your enemies will be present there in the mountains in the face of fear, discomfort, and much more but by being like these Avengers of Marvel; you will be able to conquer everything.
The mountain peaks, the uncertain weather, and not inviting situations will be the Thanos of your Marvel series of Avengers.
Where you will fight like the superheroes, by being superhuman, it would be the most amazing feeling for any trekker to live the life of the Avengers in the mountains.
Like living, the journey of these superheroes was always our dream in the childhood and till now, and this time you will be the avenger who will finally kill the Thanos of your life in the mountains forever and ever.
The movie Avengers Endgame is the sensation right now as we all know, Avengers have the team spirit working together to achieve one goal, and the same can be done in the trekking as the team can make everything possible.
Avengers Endgame will be the best movie for anybody to watch, and as many spoilers are coming so be caution though we won't let you know any climax.
---
Conclusion
Be the avenger in your trekking journey, as each Avenger is the blend of physical and mental fitness and that is how they fight back against the evil to save the world.
Same as in your journey of trekking, you are the avenger in your trekking, and a team of Avengers works together to conquer upon the negativity in the world.
The fear, lack of confidence are your enemies, you have to win upon and fight back like the, and the rest will follow you.
As Avengers Endgame is becoming the sensation so try being one of the Avengers when you are in the mountains, and that is how you will be able to conquer any summit you desire off.
---